SEO Plugins for WordPress
In our recent blog posts, we talked about SEO and why it is important and provided you with an on-page SEO checklist to get you started. As we continue the discussion on the importance of SEO for your nonprofit website, we wanted to give you a list of plugins that you can use to make your site more search-engine friendly.
Search engines are a significant source of traffic for most websites. 93% of all online experiences start with a search engine. Optimizing your nonprofit website for search engines will help you rank higher in search results and get more visitors to your site. But if you're not an SEO expert, where do you begin?
In this article, we'll talk about 7 SEO plugins for WordPress that you can use to optimize your site. It is important to note that you do not need to install all seven plugins; one or two may be enough depending on your needs. Let's get started.
7 Best SEO Plugins for WordPress
1. Yoast SEO
Yoast SEO is one of the most widely used SEO plugins for WordPress. It provides you with the essential tools you need to optimize your website, from its on-page SEO guide to XML sitemap creation.
Features that Make Yoast SEO a Great Choice
Site-Wide Features include:
Easily add custom titles and descriptions to all posts and pages on your website;
Webmaster tools that allow you to verify your site on Google, Bing, Baidu, and Yandex;
Automatically generated XML sitemap for all your website content which makes it easier for search engines to crawl your website;
Exclude certain types of content, such as categories, tags, media types, etc., from showing up in search engine results.
Page-Level Features include:
Custom Title & Description
You can set a custom title and meta description for each post or page and preview how you will show up in search engine results.
Focus Keyword
Yoast SEO lets you set a focus keyword for each post or page on your website.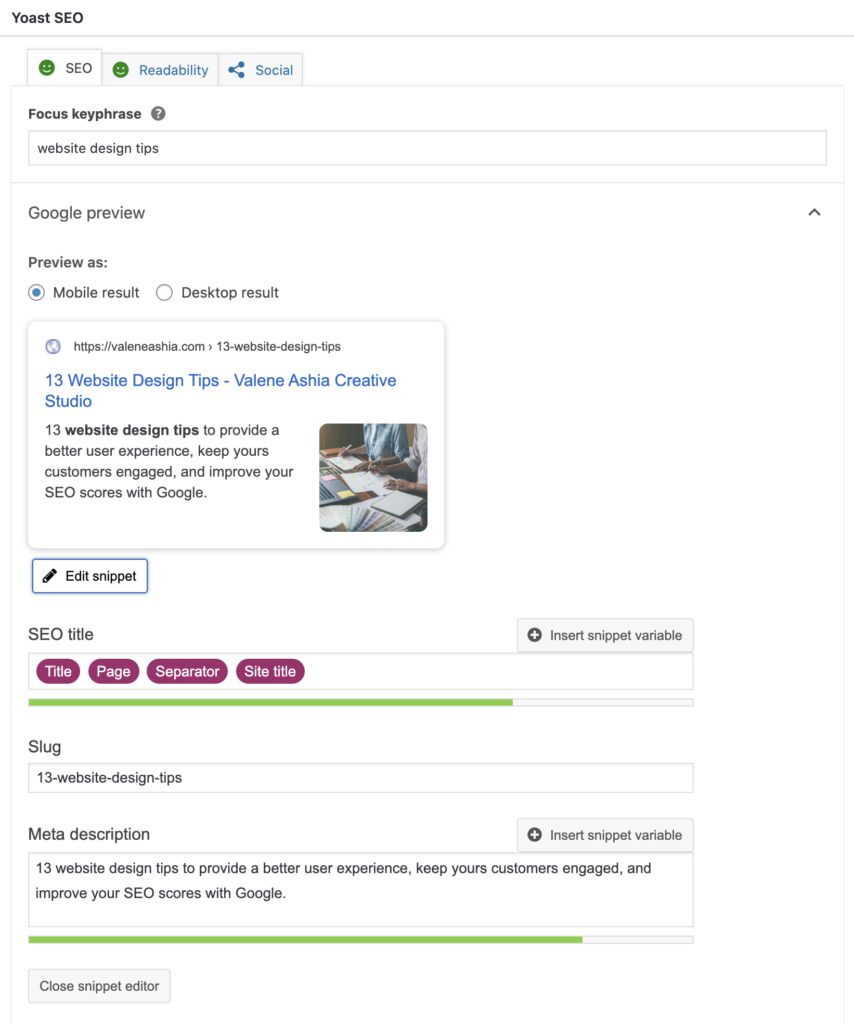 Content Analysis
Yoast SEO analyzes your content to see how well the page or post is optimized for your focus keyword. This feature offers helpful insights but should only serve as a guide. Do not get caught up in trying to aim for a perfect score.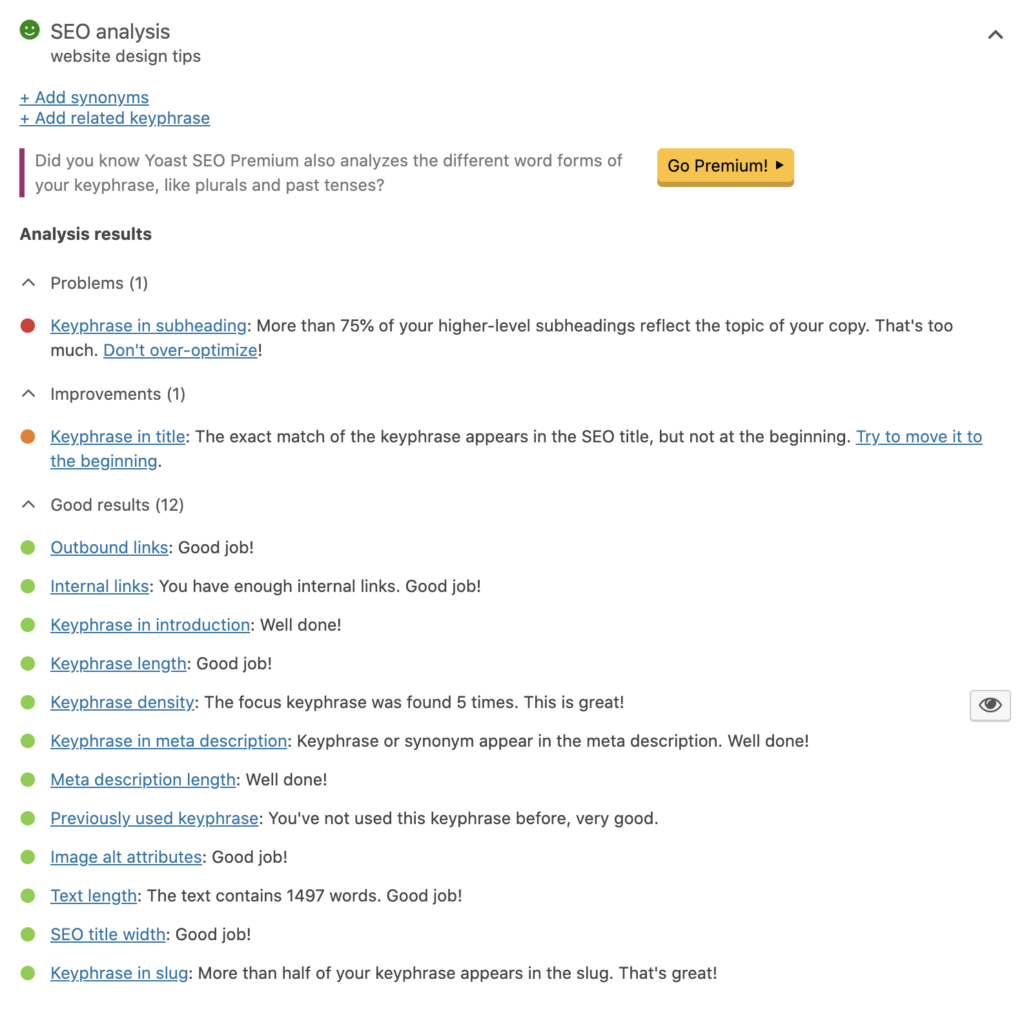 Readability Insights
The readability guide tells you how easy or how difficult your content is to read. It looks at the length of your sentences, paragraphs, use of subheadings, tone, and more.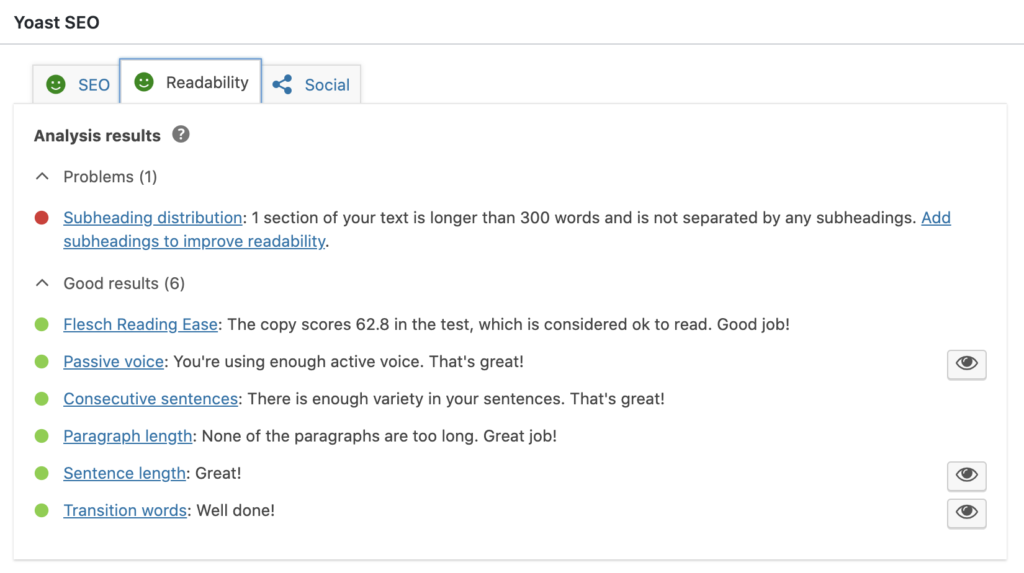 Social Media Tools
You can also set a custom title, description, and image for sharing your post or page on social media.
For a full feature list, visit the Yoast SEO website.
Yoast SEO Plugin Cost
There is a free version available. The premium version starts at $99 per year.
2. All-in-One SEO Pack
The All in One SEO Pack is another popular SEO plugin for WordPress that allows you to optimize your website. It's easy and works out of the box for beginners, but it also has advanced features and an API for developers. The essential features of the All in One SEO Pack are free, but you can get access to more features by purchasing the premium version.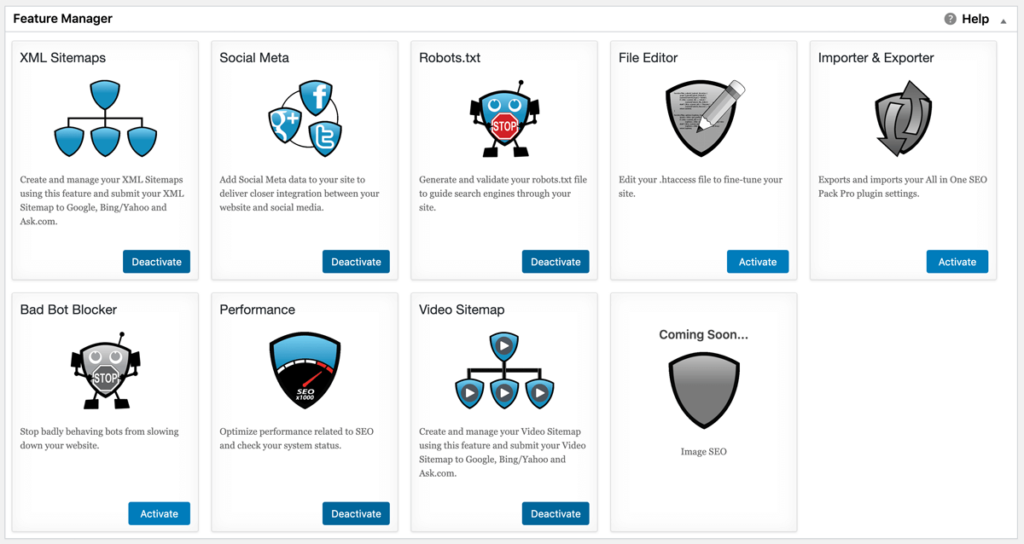 The top Features of the All-in-One SEO Pack include:
Automatically generate and submit sitemaps to Google, Bing, Yahoo, and other popular search engines;
Add meta title, description, keywords, and more for on-page SEO optimization;
1-click support for video sitemap, so you can rank in Google's video carousel widget and grow your traffic;
Automatically notify search engines like Google and Bing about changes to your site;
Easily connect with Google Search Console, Bing, Yandex, Baidu, and Pinterest webmaster tools;
Advanced eCommerce SEO support for WooCommerce so that you can optimize product pages, product categories, and more;
Control how your content and thumbnails look on Facebook, Twitter, and other social media networks.
All-in-One SEO Plugin Cost
There is a free version available and a paid version starting at $124 per year.
3. SEOPress
SEOPress is another simple, fast, and powerful SEO plugin for WordPress. It has all the features you would expect from an SEO plugin.
Top features include:
Manage your titles, meta description, and meta robots (noindex, nofollow, etc.) for every post, page, custom post type, and archive page;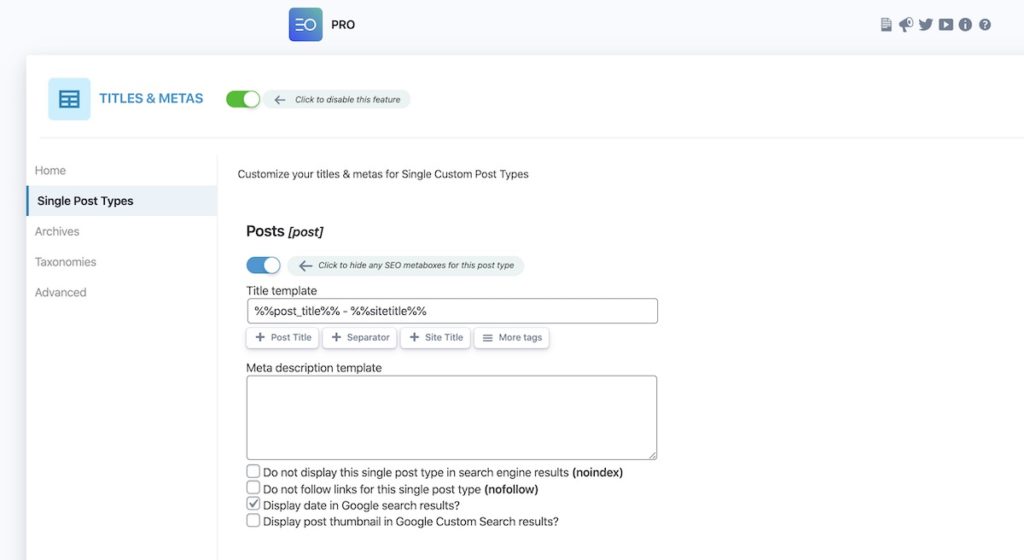 Improve Search Engine crawling by providing XML sitemaps of your posts, pages, custom post types, terms taxonomy but also videos, images, and news;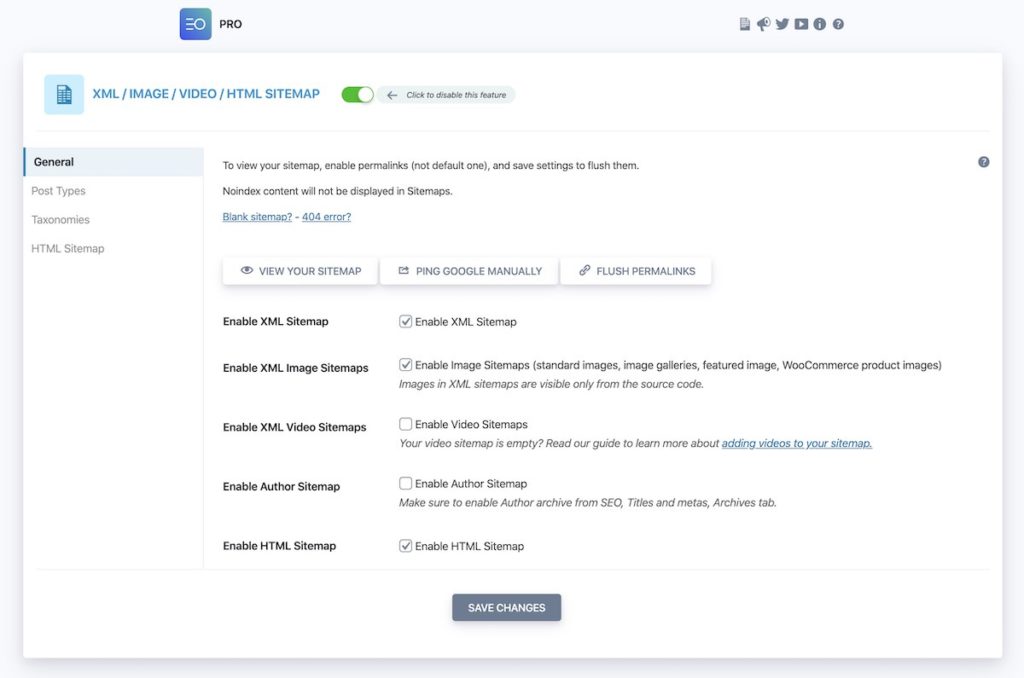 Improve social network sharing with Open Graph tags (Facebook and Pinterest), Twitter Card, Google Knowledge Graph, and more.
What makes this plugin stand out is its easy setup. It also has no pestering ads and has a cheaper premium version than some of the other popular SEO plugins.
SEOPress Plugin Cost
SEOPress has a free version that provides all the basic settings to boost your WordPress SEO. For premium SEO features to increase your rankings, check out SEOPress Pro. Cost = $49 per year.
4. The SEO Framework
The SEO Framework is perfect for those who want a fast, lightweight, and ad-free SEO plugin for WordPress. It has less clutter than the other SEO plugins and focuses on keeping site speeds high.
Top features include:
A colored scale showing you exactly how to optimize each post or page for search engines;
A local SEO extension for companies that need to set up and display crucial local business information;
Preconfigured SEO settings so that there's little to set up after installing the plugin;
Automatically generates critical SEO meta tags;
While other plugins utilize a focus keyword, The SEO Framework focuses on the focus subject to encourage more natural writing;
Automatically notifies Google, Bing, and all connected search networks of your website's changes with its built-in sitemap.
SEO Framework Cost
This plugin is free to use.
5. Rank Math
Rank Math is a free WordPress SEO plugin that comes with everything you need to take full control of your on-page SEO. Each post, page, or product runs through an SEO analysis tool that provides you with steps to improve your content.
One feature that makes Rank Math stand out is its integration with Google Search Console. Essential information like what keywords you are ranking for, how many search impressions your website is getting, what errors Google sees on your site, etc., are made available right inside your WordPress admin dashboard.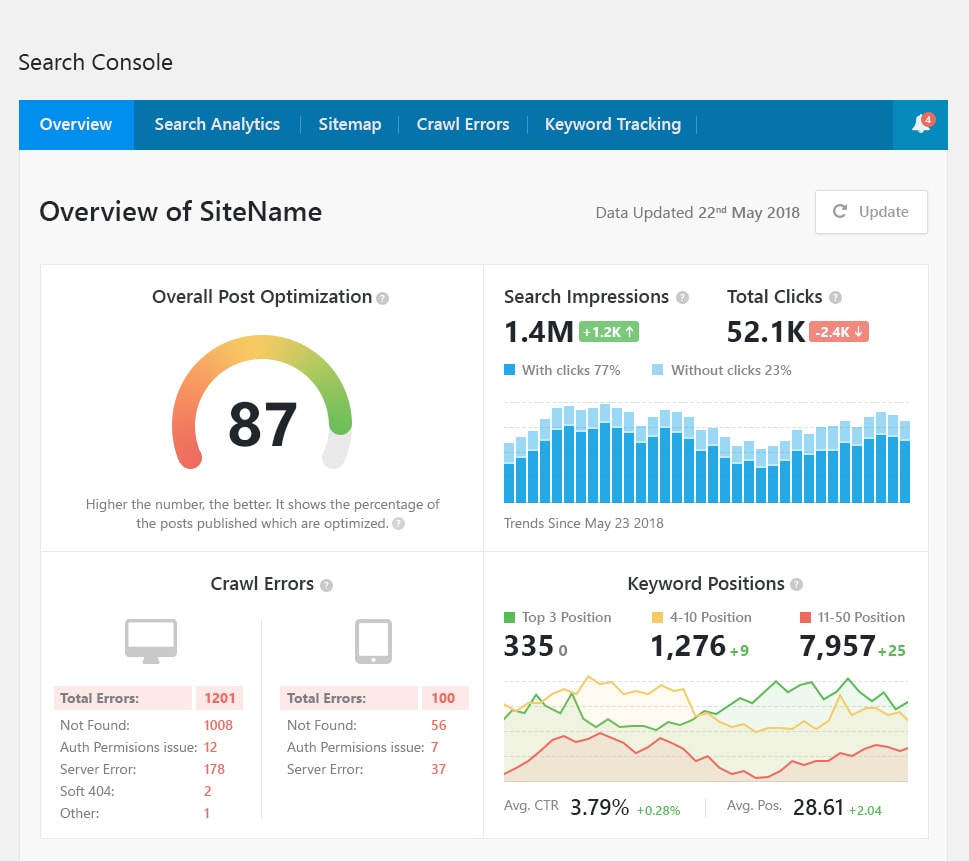 Apart from that, Rank Math comes with comparable SEO features such as a 404 monitor, redirection module, Rich Snippets support, Local SEO, XML sitemaps, automated image SEO, internal link-building recommendations, and more.
Rank Math Plugin Cost
There is a free version that you can use. The paid version starts at $59 per year.
6. Premium SEO Pack
The Premium SEO Pack for WordPress is a powerful tool for optimizing your website for today's search engines. It contains all the features that you would expect to find in dozens of different WordPress plugins, plus it includes unique features that you cannot find anywhere else. Some foundational elements include SEO title and meta descriptions, sitemap generation, and Google Analytics monitoring. Unique features include page speed insights, keyword tracking, rich snippets, 404 monitoring, CSS, and Javascript minifying (for speed), link building, and more.
For a full list of features unique features, visit the Premium SEO Pack website.
Premium SEO Pack Plugin Cost
There is a "lite" version you can use for free and a paid version for a flat fee of $44.
7. All-in-One Scheme Rich Snippets
The All in One Schema Rich Snippets plugin gives you eye-catching results in search engines. It provides visual search elements such as star rankings, images, and other essential details that might grab the user's attention by having something different than the regular search results.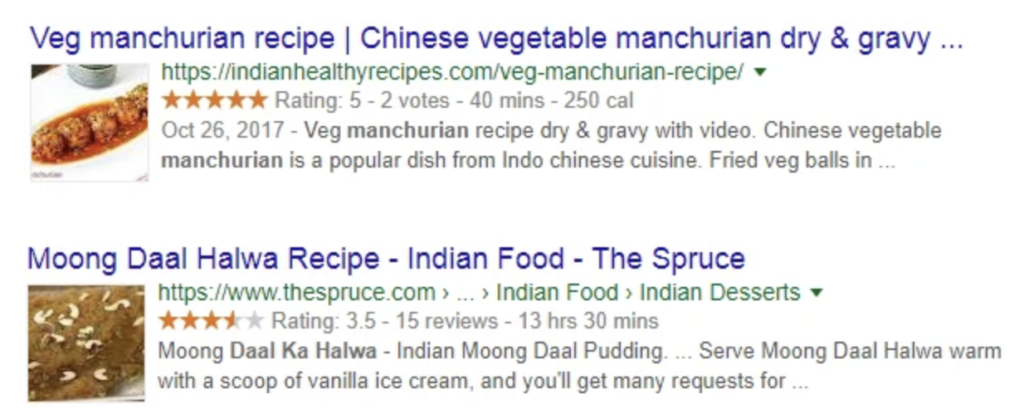 The All in One Schema Rich Snippets plugin supports several types of content, including articles, reviews, events, people, products, videos, and more.
Structured markups for a blog or an article page can enhance the appearance of search results.
All-in-one Schema Plugin Cost
A free version is available for this plugin. The pro version is $67 per year.
So Which is the Best SEO Plugin for WordPress?
The best SEO plugin for you will depend on the goals you are trying to achieve. We've provided this list to help point you in the right direction.
We use both Yoast SEO and SEOPress for our clients and have found that they both work well in optimizing WordPress sites. If you have any questions on finding the best SEO plugins for WordPress or have other plugins you would like to recommend, drop us a note in the comments section below.
Disclosure: This post may contain affiliate links. When you purchase a product using our affiliate link, we may receive a small commission. We only recommend products we trust and believe would add value to our readers. Thanks for your support!
---
Valene Ashia is the founder & CEO of Valene Ashia Creative Studio. Valene enjoys creating engaging content with nonprofit marketing best practices for organizations doing good.
All author posts